"MiYO is unlike anything I have used before! It blurs the lines between traditional steps needed to get good results, by combining aspects of layering contouring, and staining and glazing, into one or two simple steps."
"As a replacement for stain and glaze systems, MIYO is superior because the color and opacity selection works well together to be both comprehensive yet efficient."
"The ability to mimic a layered effect with a paint-on application is approaching 'magic'."
"I am able to change the value and hue of any situation that may arise and solve the issues that come my way in a commercial dental laboratory daily."
"It's color that's actually translucent!"
"It really gives life to my ceramics. It also helps me to save cases that otherwise would have to be remade."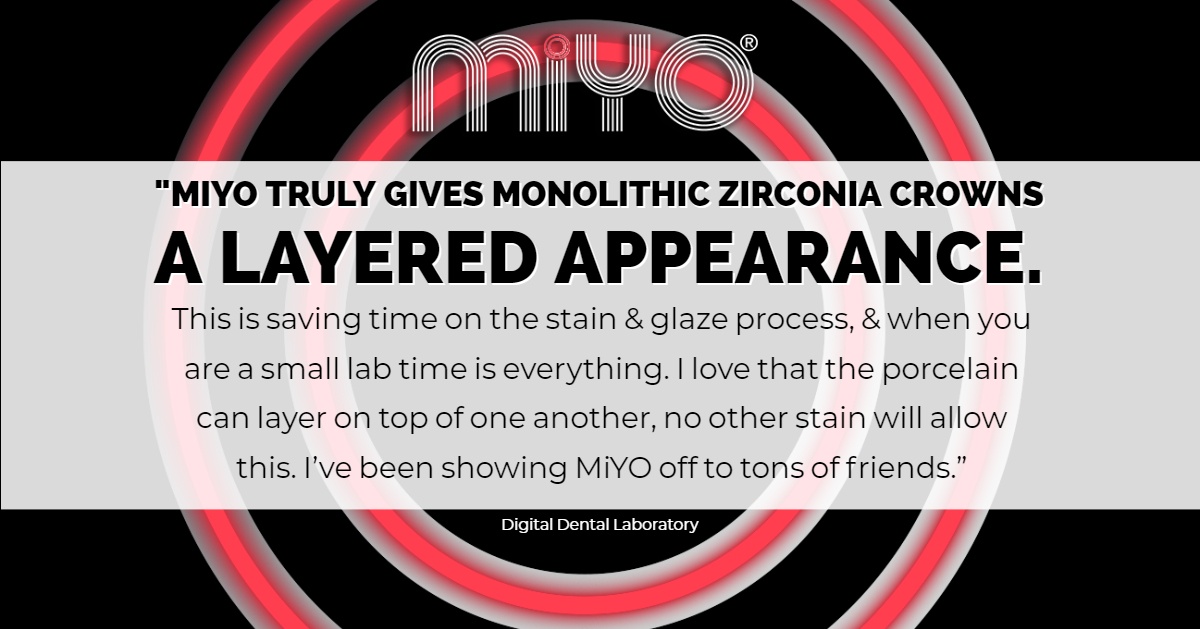 "I now have control...the tail is not wagging the dog...there have been no issues with zirconia full contour...thick or thin…coping or pontics...no issues."
"The ability to take a run of the mill full contour unit and make it something special for our clients is a good thing. To do that AND give them a competitive price is a Great thing!"
"It's so easy to use and looks amazing!"
"The MiYO products are easy to work with. I have enjoyed the Lumin material to alter the brightness on restorations."
"Works as advertised. The result is what you see during application."
"Able to use MIYO to custom shade an anterior crown while patient waits due to its short firing cycle."
"Saves time and money!"
"The initial effects are very impressive, and unlike many other stain systems, these are not as obviously detectable as being on the restorations surface."
"The Structure Pastes are the perfect tool for a ceramist to soften the manufactured 'CAD-CAM' look of many monolithic restorations."
"The shades do not run or get muddy. They are easy to work with and I can get a layered look in just one bake."